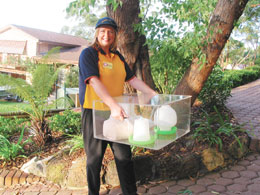 About Us



As a preschool teacher with 22 years experience, providing stimulating and educational activities for my classroom was always an exciting challenge!

In 1997 I visited my sister at her farm and was amazed to see an incubator and chicken eggs set up in her kitchen. My children were entranced, it was the highlight of the holiday and provided lots of opportunities for family discussions.

Inspired, I borrowed the incubator for my preschool and was thrilled to see that staff, children and parents all loved the concept. Unlike class excursions which not all children could attend, the incubator gave everyone an opportunity to participate in the experience.

So, in 1998 the Chicks R Us program was "hatched". As a teacher I knew it was important to emphasise the educational elements of the program and I developed a range of teaching programs and activities. I also knew how busy staff can be, so the incubators have been designed to be pretty much self sufficient. Over the years I have improved the programs and designed new incubators and boxes with much bigger viewing areas.

Every year since 1998 our list of happy customers has grown. We look forward to bringing the Chicks R Us hatching program to your school or home.




- Debbie Campbell

Visit Our Farm!
Buy day old chickens
to Point of Lay Hens.
6 breeds
Freight available -
call 02 962 02 555
barterandsons.com.au
OPEN THIS & EVERY WEEKEND
OPEN 5 Days
Monday Closed
Tuesday 10am –5.30
Wed 11am—5.30
Thurs Closed
Fri 11am—3.30pm
Saturday 9.30– 3.30
Sunday 9.30– 1.00
Public Holidays Closed
Let your friends know!!